We offer a very limited number of paid sponsorship opportunities for select companies that want to get in front of a audience of senior decision makers in the global travel and tourism industry, interested entering the Chinese market. For the booklet's coming editions, sponsorship rates will be published here soon.
Meanwhile you can have a look at these sponsorship deals which were available in the booklet's current dragon edition. Please note that the below rates are not confirmed for the booklet's next edition and only serve as a reference until the next edition's media deals have been finalized and published.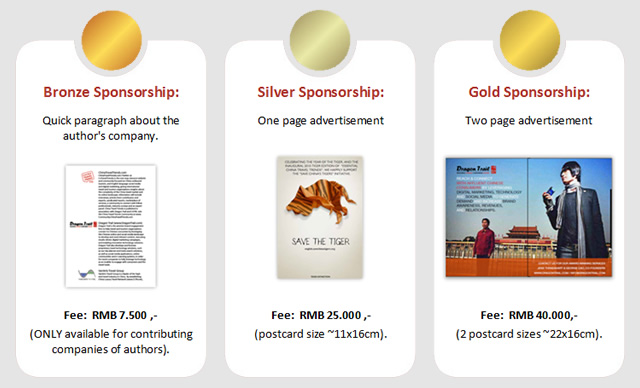 In addition to the above categories of sponsorship opportunities, we also offer one Platinum Sponsorship deal, which includes
2 pages on the inside back cover
Logo listed on back cover with the producers and co-producers
(China Travel Trends, PATA, Dragon Trail and COTRI)
Mentioned in press releases as prime sponsor
Please note: Since the Essential China Travel Trends Booklet is a non profit publication, these sponsorships only server the purpose of covering our production cost, so sponsorship pages are very limited and given out mostly on a first come – first serve basis.
Take a look at our full media info and contact us for more details at (jens@chinatraveltrends.com) and make an extra good deal as an early bird for our booklet's next edition.